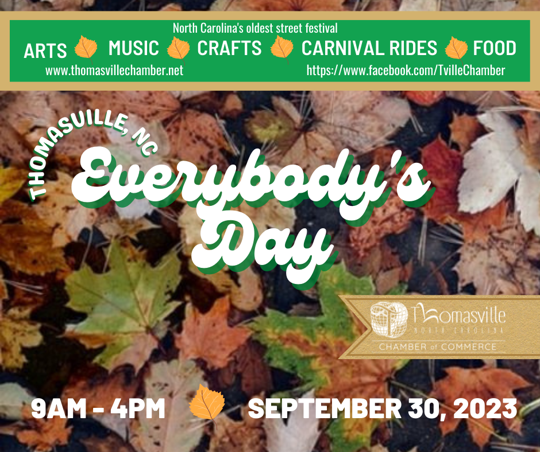 Everybody's Day Festival -

Saturday, September 30, 2023 Downtown Thomasville
9:00 AM – 4:00 PM

An important part of Everybody's Day is the support the festival receives from multiple organizations within the community, especially our flagship sponsors, local business sponsors, volunteers, and The City of Thomasville, NC.

Directions
From Raleigh, Greensboro or Charlotte on I-85, take Exit 103. Travel North on Highway 109/Randolph Street for two miles to downtown Thomasville, NC.
From Winston Salem, take Highway 109 South to downtown Thomasville, NC.
From High Point or Lexington on Bus.- 85, take the Highway 109 South exit and travel two miles until you reach downtown Thomasville, NC.
Accommodations
Download My Chamber APP from Itunes for FREE to find lots of local stores, events, and deals going on in the Thomasville Area.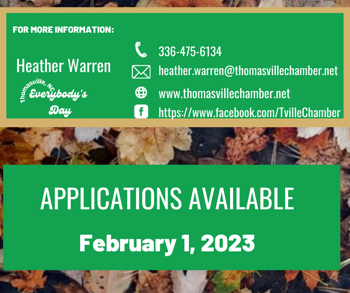 Special Services
First Aid
Thomasville Medical Center as well as the Thomasville Rescue Squad will provide first aid and emergency services at the festival. The first aid area will be located at the corner of Main and Randolph Streets.
Handicapped Services
The Everybody's Day festival is indeed for everybody. The following special services are available for handicapped visitors.
Handicapped Parking – The parking lot immediately behind City Hall (10 Salem St, Thomasville, NC 27360) is designated as official handicapped parking for festival visitors. The lot will be identified with a sign. It is accessed from Thomas Street.
Restrooms – Portable toilets with handicapped accessibility locations are indicated on the festival map. Signs on the facility also identify the handicapped-accessible toilets. Newly constructed handicapped-accessible restrooms are available adjacent to North Carolina's oldest Railroad Depot near the corner of West Main Street and Trade Avenue.
Special Notices
For the comfort, safety and enjoyment of all festival visitors, City of Thomasville Ordinance prohibits the following at Everybody's Day:
Pets
Silly String
Poppers
Bicycles, Skateboards, Scooters
Noted and obvious exceptions include wheelchairs for the handicapped as well as Leader Dogs for blind or sight impaired.
Enjoy your time in Thomasville, NC!
Lodging Options for Out of Town Vendors & Guests - CLICK HERE
2023 Everybody's Day Applications: